June 18, 2019
There have been two disruptions to the housing market over the last nine months, but their effects are proving short-lived. First, a sudden increase in interest rates in late 2018 weighed on December and January sales activity. Second, record snow and the subsequent melt in February and March of this year weighed on sales activity in March and April. But May numbers are showing growth in seller activity, pending and closed buyer activity as well as quicker market times and rising prices.
Prices reached a new all-time high of $285,000. New listings rose 2.4 percent while closed sales were up 3.0 percent. After two months of increases, market times sped up by 4.3 percent compared to May 2018. The ratio of sold to list price fell for a fourth consecutive month, but by the smallest amount since February. In conjunction with other indicators, the market is improving for buyers, even though sellers still enjoy strong pricing power, favorable negotiating leverage and quick market times. For the last nine months, buyers have seen more active listings for sale than the year prior. Mortgage rates remain very attractive at around 3.85 percent on a 30-year fixed loan—far lower than anyone predicted by this time. We still have a tale of two markets: strong demand, weak supply and price growth in the affordable brackets but oversupply and slow market times in the upper brackets.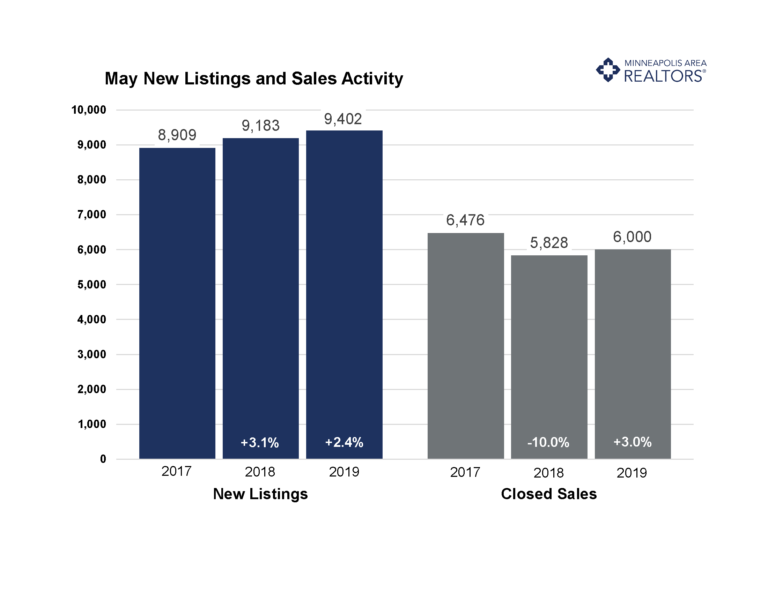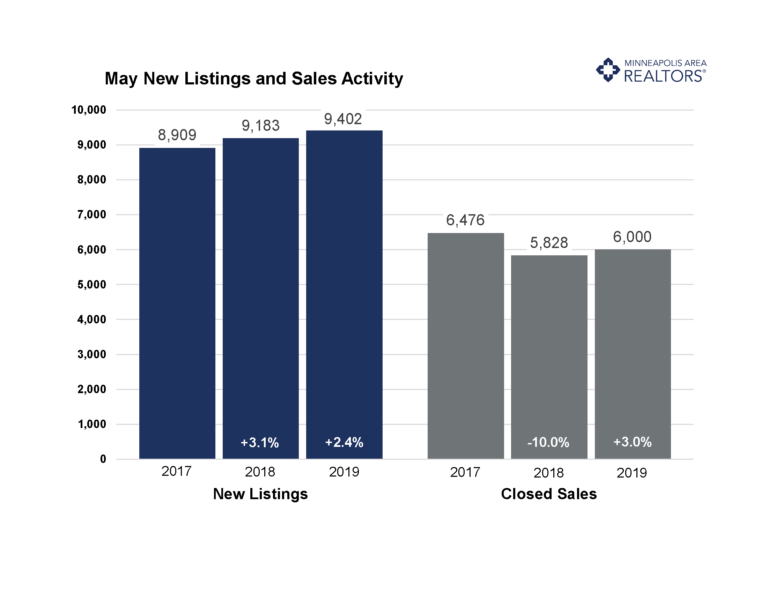 May 2019 by the Numbers (compared to a year ago)
Sellers listed 9,402 properties on the market, a 2.4 percent increase from last May
Buyers closed on 6,000 homes, a 3.0 percent increase
Inventory levels for May increased 0.5 percent compared to 2018 to 11,327 units
Months Supply of Inventory was flat at 3 months
The Median Sales Price rose 5.2 percent to $285,000, a record high for any month
Cumulative Days on Market decreased 4.3 percent to 45 days, on average (median of 17)
Changes in Sales activity varied by market segment

Single family sales rose 2.7 percent; condo sales rallied 9.9 percent; townhome sales increased 3.1 percent
Traditional sales increased 4.4 percent; foreclosure sales declined 26.8 percent; short sales fell 28.6 percent
Previously-owned sales were up 2.9 percent; new construction sales surged 10.5 percent
Quotables
"We're still seeing some rebalancing, but it just isn't as dire as some want us to believe," said Todd Urbanski, President of Minneapolis Area REALTORS®. "Rates under 4.0 percent is a significant motivator for buyers."
"Not everyone understands that all real estate is local," said Linda Rogers, President-Elect of Minneapolis Area REALTORS®. "Shifts in other regions have very little impact on our local market dynamics."
From The Skinny Blog.